005: Are you feeling lost and stuck?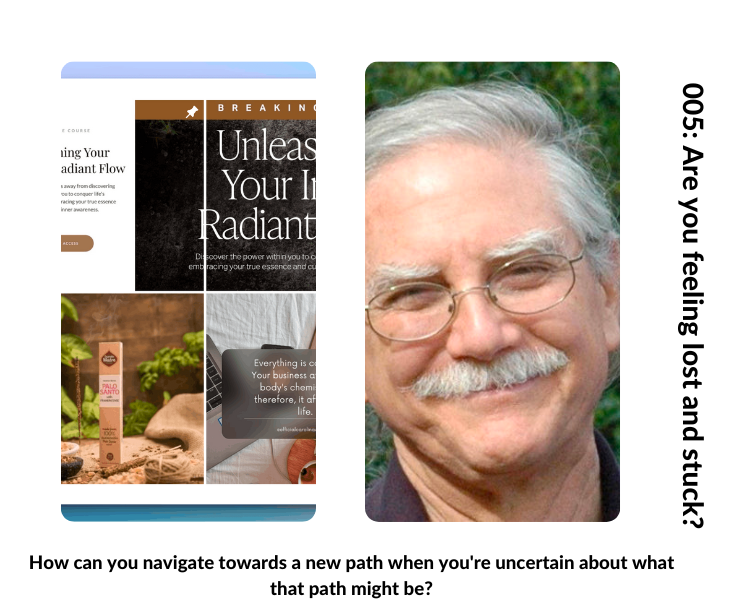 There was a time in my life when I found myself stuck in a job that I didn't particularly enjoy. Despite the job's benefits, I was unsatisfied and found myself constantly yearning for something more. I tried to resist these desires, convincing myself to find peace in the status quo. Yet, I felt frustrated, discouraged, and lost. I was counting down my years until retirement..... 30 +++ years to go.... crazy!
I thought I had to stop wishing for new things, otherwise I would never be able to feel satisfaction and peace.
The issue wasn't just my discontentment in my current position. The more significant challenge was the uncertainty surrounding what I truly desired.
I had no clue what I wanted.
How can you navigate towards a new path when you're uncertain about what that path might be?
One day I was complaining to my Mom and telling her how miserable I was feeling and how much I hated my job and she told me, why don't you write down on a piece of paper how you would like to feel if you had a job you really enjoyed?
And that's what I did, I allowed myself to dream again and see the possibilities.
I wasn't entirely sure of what I wanted, but I was vividly clear on what I didn't want. My job description was rather general, emphasizing the desired feelings rather than the exact specifics of the new job.
Additionally, I noted that I desired something that would fall into my lap, as I was exhausted from constant trying.
To my surprise, less than a year later, I found myself in a job that fulfilled all my desires and more. This transformation was a powerful awakening to my potential as a creator of my own life.
And guess what?!
I was laid off, but serendipitously received an offer from another company. Without any active pursuit on my part, they came forward with a proposition to hire all those who had been let go.
So YES, I did not figure that out with my rational mind.
However, what I did consistently was to immerse myself in the feelings and sensations I had written down in relation to my new job.
Why do I want to share this with you?
There were many issues in how I was leaving my life.
Maybe you could be experiencing something similar, and honestly, it's not supposed to be like this.
First, I thought I had no choice and I had to tough it out at that job no matter what.
Second, the only way out, for me, was to find a solution with my mind, I had to figure out exactly what I wanted to improve my situation.
And third, I thought that life was supposed to be just ok. "Nobody has an amazing life anyways, most people don't like their jobs".
All of the above are flaw premises. However, they can be true if you believe in them.
Are you feeling lost? Discouraged? Frustrated?
Find the feeling of the new chapter in your life and practice with that.
Is it freedom that you are looking for? How does freedom feel in your body? What is a simple action you could do today that would make you feel free?
Is it Joy? Love? Peace? Excitement? Fun?
Whatever it is. Feel it now.
Let the feeling be stronger than your frustration or discouragement.
Tune in to the frequency of your desires by allowing yourself to feel new feelings. No worries if you don't know what it is yet, let life surprise you.
Write it down. Have fun doing it.
The primary insight I gained was not about suppressing my desires. In a Universe that is constantly expanding, it's natural for us to keep wishing for new adventures. However, the key was to tune into those feelings, regardless of the external circumstances.
I decided that I would feel good no matter what, and it took a lot of discipline because the distractions were all over. You could tell me, "Oh, you're lucky!" And now, I would say, "Yes, I am lucky." But that's not why things happened the way they did. We work as magnets, and the power to magnetize what you want comes from your feelings. It requires focus and discipline.
After that I began to dedicate more time to understanding how this Universe works, the mechanisms behind my actions and realized I could replicate them. So, it's not about being lucky; it's about consistency, focus and discipline. It's about self-control and the influence of energy over matter.
We all have this power within ourselves, we just need to decide we want to be happy and have an amazing life.
Happenings
School Time!
I am thrilled that my one-and-a-half-year-old son is starting school. It's only once a week, but he absolutely loves it. The school is a beautiful Waldorf project in Costa Rica, where children can start adapting to a new environment while parents learn more about the philosophy.
I am truly fascinated by the Waldorf Philosophy. It discusses the connection between the cosmos and human beings, which is why they teach at a different pace from most schools. Education is delivered through rhythms and routines, connecting us back to nature. They apply the law of the observer. It's beautiful to watch the teachers creating a safe space for all the children to shine their light.
If you find this interesting, I found this website with very good information: Waldorf Education - Association of Waldorf Schools of North America​
This is a picture of the school here. They think of every detail.
​
New Instagram Account
​​
Additionally, I've decided to launch a new Instagram account where I'll be sharing my work and the various practices that help me align my vibrations with what truly matters to me.
I firmly believe that understanding the workings of the Universe can make the game of life much more enjoyable.
After all, life is meant to be fun! If you resonate with this perspective, I warmly invite you to follow my new account: @officialcarolinawilke.
​
Working With The Energy of Success
Detach yourself from the idea that you are going to feel a certain way when you have achieved certain things or had certain experiences. Instead do this ...
---
SEPTEMBER SALE
Now through 9/30, get 20% off your Radiant Flow Yoga Membership Using Coupon Code
"GRATITUDE"
​CLAIM YOUR SPECIAL OFFER BELOW​
(Exclusively For Newsletter Subscribers)
Who We Are Celebrating This Week: Michael Singer
This week, I'm celebrating Michael Singer, an author who has deeply influenced my life. His book, "The Surrender Experiment," introduced me to the transformative power of embracing life as it comes. His teachings, which I find both straightforward and profound, remind me to perceive challenges not as obstacles, but as opportunities for growth. Each time I revisit his work, I'm reminded of a simple, yet powerful truth - life is simple, and often, we are the ones who complicate it.
​Check to check this book here. ​
​
Here's What I Want to Share This Week:
Do you know how to organize your notes?
OMG!!!!!!!!!!!!!!!!!! If you have your notes ALL OVER THE PLACE and you find hard to keep track of your stuff.
This is totally for you!
I'm not a tech geek, but this tool truly changed my life. You can simply add all your notes as notepad entries and then ask simple questions to find them. There's much more to it! Click here to find out more about this tool.​
​
Memorable Quote: