010: Could fun be the missing piece of your business?
I remember to this day, so vividly, how I judged myself. I thought, "Really?!?! What a selfish purpose, to have fun?!?" But, for the lack of another purpose, I decided to accept that idea as the start of having a purpose, which felt better than having no purpose.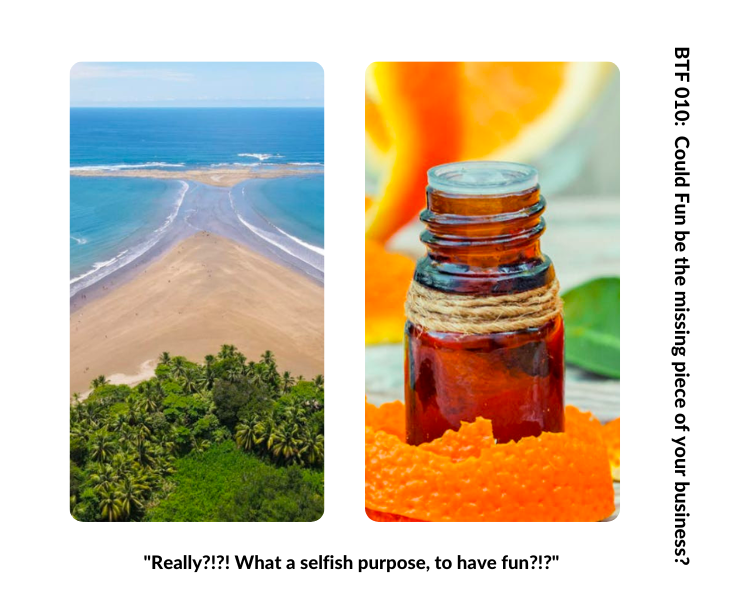 When I was around 12 years old, I was watching an interview on TV. A famous actress was discussing her life's purpose. At that time, she was helping to feed millions of children around the globe, and I found that beautiful. She explained how she had found her purpose in life and the joy it brought her.
​
I remember thinking that I didn't know what my purpose in life was, and I needed one. Right away, I had this clear thought saying that my purpose in life was "to have fun".
​
I remember to this day, so vividly, how I judged myself. I thought, "Really?!?! What a selfish purpose, to have fun?!?" But, for the lack of another purpose, I decided to accept that idea as the start of having a purpose, which felt better than having no purpose.
​
​Little did I know how profound that thought was.​
​
Neuroscience may not explicitly discuss the concept of "fun," but it does explains the significance of activities and experiences that elicit joy and pleasure, often associated with having fun.
​
These experiences can profoundly impact our brain and overall well-being. They contribute to stress reduction, enhance social connections, regulate mood, and promote cognitive health, among other benefits.
​
But that's not all about the importance of adding fun to your life and to your business.
​
It's clear from our personal experiences how connected we get when we're involved in an activity we enjoy. We lose track of time and remain in the present moment.
​
During these instances, it feels as though nothing is more important than the moment we're experiencing, with no regrets from the past or worries about the future.
​
Engaging in fun activities propels us into this state of presence. By immersing ourselves in the joy of the moment, we elevate our vibrational energy, tap into a state of flow, and achieve unity with the experience. And when we raise our vibration, we increase our ability to positively impact others' lives, which can also reflect on your business growth.
​
How fulfilling is that?
​
My point here is that incorporating fun into your journey can enhance your health, deepen your connection with life and much more.
​
Yet, in the realm of business, we often overlook the significance of joy and fun. I'm not referring to a business that only provides resources to have fun during your time off or vacations, but rather a business where you can genuinely enjoy the process of working and serving.
​
How much fun do you have during your workday? How capable are you of changing your vibration when doing tasks you might not like as much?
​
Reflecting on my personal journey, several years after realizing that my purpose was to have fun, I began to deeply study personal growth. I came to understand the sacredness of following one's passions and heart, and the importance of finding something you love and enjoy doing as a contribution to the world.
​
And I realized that having such a purpose wasn't selfish. Instead, it allowed me to serve the world more effectively when I could do so from a place of joy.
​
For me, fun symbolizes a realm of possibilities, which is very different from the constant pursuit of pleasure. I have been deliberately crafting a life on my terms, where fun serves as a significant aspect of my internal guidance.
​
This doesn't mean that I only engage in activities I like or that bring me pleasure. Rather, a beautiful part of this journey has been observing all the tasks I dislike with curiosity, which has transformed them into enjoyable experiences.
​
This is the recordings of the messages I have for our community and social media. Initially, this task was challenging and I held a strong negative opinion about it. However, it's interesting to observe how the energy rises generating discomfort and how I can utilize that to my advantage.
The question is:
​
​If I dislike something, who would I become if I could neutralize the part of me that nurtures that dislike? ​
​
So in this journey of including fun as an important aspect of my business I am carving a path of fulfillment ease and joy.
​
Esther Hicks once quoted, "Life is supposed to be fun," and I couldn't agree more. This doesn't imply that life becomes easier or with less challenges, but rather, it suggests that we are engaged in something meaningful to us and allowing ourselves to enjoy the journey, instead of awaiting a destination to find complete happiness.
​
Delving deeper into this topic, the sacred book of the Upanishads states, "From Joy we have come, in Joy we live and have our being, and in that sacred Joy we will one day melt again." [Taittiriya Upanishad 3-6-1.] We are bliss and joy; our business, our life, should be a reflection of it. Allow it to be, fun could be the path.
​
I have been reflecting a lot around this topic and I experienced a profound realization not long ago. If you were to meet me in person, you might not immediately perceive me as outgoing or extroverted. It's possible you may not even recognize that I'm having fun, since we often associate fun with outward expressions.
​
However, the enjoyment I experience within my own mind is extraordinary. I engage with so many exciting ideas, allowing my imagination to flow, and I dream of endless possibilities, which I consistently bring into reality.
​
And I realized that this is the most important way to have fun; it has to begin within! Allow your mind to be a fun place to be.
​
Reimagine your business by adding fun to it! Go wild - it's your life!
​
Allow fun to be your guide, and share that with the world around you. Dare to have fun; dare to do things your way.
With Love,
Carolina
Happenings
​​
I am very excited to share our plans for our next exclusive VIP weekend with a valued client here in beautiful Costa Rica. We'll be immersing ourselves in the serene setting of Uvita Beach, an ideal location to foster connection and provide strategic support as our client seeks to expand his business.
We'll be offering comprehensive support, from marketing strategies to personal development, encouraging our client to transcend limiting beliefs and fully embody his authentic self for the benefit of his clients and his own evolution.
​
Providing opportunities for in-person, in this "on line" world, focused work weekends has proved to be incredibly rewarding. We've found immense power in the moments of connection we get in between our focused work sessions.
​
If you want to know more about how you can have your VIP Weekend, simply reply to this email and Phil and I will be happy to schedule a call with you.
Who We Are Celebrating This Week: Esther Hicks:)
This week I want to celebrate Esther Hicks, I love her work and all her teachings, she contributes to elevate the frequency of our planet in such a beautiful way.
​
Look for fun, look for clarity and that's enough. This is an amazing recording she explains how simple the process of alignment is and when we do that, the things we wish start to come to us in an easier way and faster way. Fun is important. It takes less than 15min, really worth watching.
Here's What I Want to Share This Week:
Orange Essential Oil
The aroma of Orange Essential Oil is delightfully bright and elevating, yet it also carries a calming undertone. If you're experiencing a slump in energy, this could be a lovely choice to first soothe you, and then invigorate your spirits.
Fun things to do
What if you could incorporate some time to discuss fun activities into your business plan? Phil and I did just that, and we agreed to engage in something fun once a month, to relax, enjoy, and celebrate.
​
Not only do we participate in a fun activity, but we also schedule a specific meeting to discuss and decide what's next. It's amazing how this helps maintain our emotional health and keeps the excitement alive, even during busy and stressful times.
Memorable Quote: