The 5 LightBulbs with Billy Broas
CTC Circle Spotlight: The 5 LightBulbs Messaging Framework with marketing coach, Billy Broas.
Last month we kicked off our first guest training within the CTC Circle Community.
We were honored to have founding member Billy Broas share a powerful messaging framework he's been developing.
Billy originally got his start building a successful beer brewing course business.
Since then, he's quietly become the online marketing "secret weapon" behind powerhouse creators like Ryan Deiss (digitalmarketer.com, The Scalable Company) and Tiago Forte (Building a Second Brain, Praxis).
Sidenote: I was an early cohort member of Tiago Forte's BASB and had no idea Billy was involved!
Billy is a course marketing and online education coach who has also worked with legendary creators such as David Perell, Khe Hy, and Ali Abdaal. Together, they have been leading the way in a new way of creating results online - through cohort-based education.
Tiago and Billy recently partnered up to create The Keystone Accelerator, an advanced program for established course creators ready to scale their marketing engine behind a program that's already been proven to generate effective results.
I would argue that Billy is one of the "go-to" experts right now to seek out if you would like to create cohort-based courses for your audience.
He's on a mission to take the advanced marketing and messaging frameworks usually reserved for elite copywriters and make them accessible to the everyday business owner.
Billy is gifted at taking complicated ideas and translating them into understandable terms that a course creator can quickly take action on.
With the 5 Lightbulbs, he's managed to bake advanced marketing concepts (a la Breakthrough Advertising) into deceptively simple frameworks that are instantly practical the moment you learn them.
In 90ish mins, Billy guided us through:
How to use the "lightbulbs" to create messaging maps for your client
The Kanban Method for storing and updating all those copy hooks
How the "5 Lightbulbs" operate in the wild (with swipe from Ramit Sethi, Onnit, and other marketing powerhouses
How to implement the light bulbs across the most common course marketing assets (ie. ads, sales pages, emails, etc.)
Here are a few of my personal notes and takeaways from Billy's workshop:
Why The 5 Lightbulbs Framework is Valuable:
Before really diving into the elements of the 5 Lightbulbs framework, Billy helped the group to understand two key reasons why this is a massive value-add to a team's course marketing efforts:
Having a common or "shared language" across marketing teams can reduce friction and increase the speed between "we need this" and "oh man, did we ever get it"
The 5 lightbulbs create a powerful messaging map for how you approach marketing and copy that coaches transformation and, most importantly, converts.
What is the 5 Lightbulb Framework?
Imagine that your prospect or customer is on one side of a steep cliff, and they have found themselves in a place that feels uncertain, and they aren't quite sure how to get to safety.
How do you create a "bridge of transformation" that helps your customer get to the other side?
That's what we are selling when we leverage the 5 lightbulbs framework, with each lightbulb representing one aspect of the journey.
Suppose you can effectively educate and guide your audience towards "turning on" each lightbulb. You then become the obvious answer in support of their transformation.
Broas shared that you can also think of the lightbulbs as "containers of messaging," things that you need to say at each stage to have a complete course marketing message.
Fight Lightbulbs Summary:
Lightbulb 1: Your Customer's Status Quo
This lightbulb represents the language of empathy. With lightbulb one, you want to create messaging that demonstrates to your customer that you understand them.
If you can describe your customer's problems better than they can, they will assume that you have the solution and can support them in achieving a specific result.
A question to ask yourself about your audience or ideal customer: What is your customer's unacceptable status quo?
Lightbulb 2: Things Your Customer is Trying
Lightbulb 2 represents all the solutions your customer has tried in the past and any other possible solution they are aware of and tempted by.
Other online courses, coaching offers, or any other ways your potential customer might get help with solving their challenge.
You'll want to acknowledge these things in your copy in order to demonstrate that you understand where your customers are in their journey.
A question to ask yourself about your audience or ideal customer: Describe other approaches your customer is trying or considering
Lightbulb 3: Your Approach
Lightbulb 3 is essentially your "unique mechanism", your "secret sauce", your "signature course system", your "unique methodology", or "formula".
All these descriptors point to the same idea. You want to articulate clearly what makes your product, online course, or coaching offer work.
It's the thing that inspires and gives hope to your prospect who has tried so many things before and yet still struggled to cross the metaphorical "bridge" that I emphasized earlier.
Billy shared some powerful examples of lightbulb 3 from the market, including Habits of Highly Effective People, Atomic Habits, Chicken Soup for the Soul, and Extreme Ownership.
A question to ask yourself about your audience or ideal customer: What is your unique approach to solving your customer's problem?
Lightbulb 4: Your Offer
Lightbulb 4 represents all the ordinary things that most people think of when they think of marketing: your pricing, your guarantee, your product, your discounts, course bonuses, etc.
Many creators make this the focus of their marketing and stop here, but of course, there's so much more to selling transformation, which is what the 5 Lightbulbs are all about.
In fact, Billy shared that if you are following this framework and you've done an excellent job of highlighting the other lightbulbs, you can spend much less time highlighting your offer because your prospects will be "pre-sold" already.
A question to ask yourself about your audience or ideal customer: Describe your product offering. What do they get?
Lightbulb 5: Your Customer's New Life
Lightbulb 5 represents the "other side" of the bridge, that place where your customer wants to be. It speaks to their hopes and dreams.
This is where you will want to incorporate language around what they want and the benefits you can provide in support of this. This includes the next level of "hidden benefits" that your customer might not even realize they will have access to once they make it to the other side.
A question to ask yourself about your audience or ideal customer: Describe your customer's new life. What do they want?
Bottom Line: The 5 lightbulbs just make marketing simpler. This is what I love the most about it.
Looking to dive deep into how to create transformation for your audience with Billy's framework?
The replay is waiting for you inside CTC Circle.
You'll also get access to 5 ninja moves for incorporating the lightbulbs into your marketing, in addition to high-profile examples and swipes of each lightbulb in action.
And of course, if you're not yet a member, you can activate your membership for just $97/mo and get immediate access to Billy's session and 7+ programs, 4x/week coaching calls, and a host of other collaboration and community building opportunities.
Want a sneak preview? Check out the 2-min video below:
Other Resources & References For The Five LightBulbs: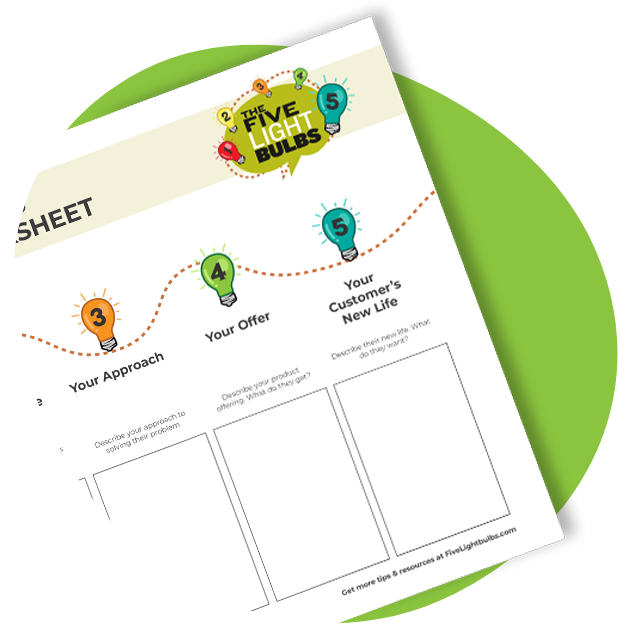 Connect with Billy on Social:
https://twitter.com/billybroas